Warm Water / Service Water
Renewable energy, warm water, air heat pump:
Should and can be produced with a solar system 12 month a year.
An additional heating unit is necessary in the low season, because the solar panels are not strong enough to serve the underfloor heating or radiators.
Both systems can work together or they can be installed seperately from each other. As additional heating unit you can choose between: oil heating, gas heating, pellet heating or an air heat pump.
The decision, of which additional heater you should choose, is not always easy, it is important to make a good analysis and consultation, which you will get from us.
At our house type description you can see which systems are included in the standard and with which pre installation of the air condition.
Attached you can find two installation models, once the minimal installation set-up with decoupled systems and second the all-in-one-solution with integrated heat exchanger for your pool system combined with the air condition:
You can get the all-in-one solution with an upgrade which is turned on automatically in the low season depending on the power of the sun and at the same time the warmth is used to dry your real estate.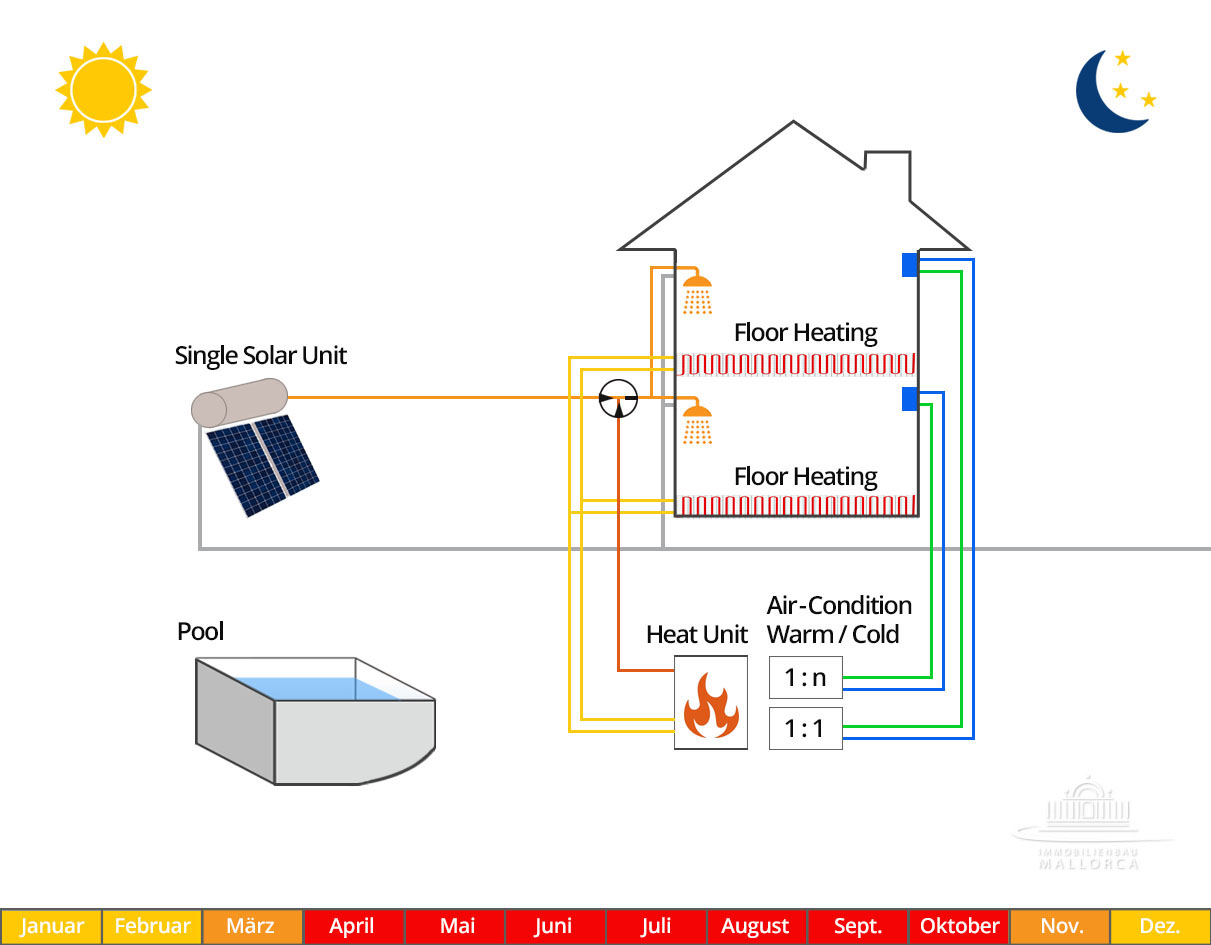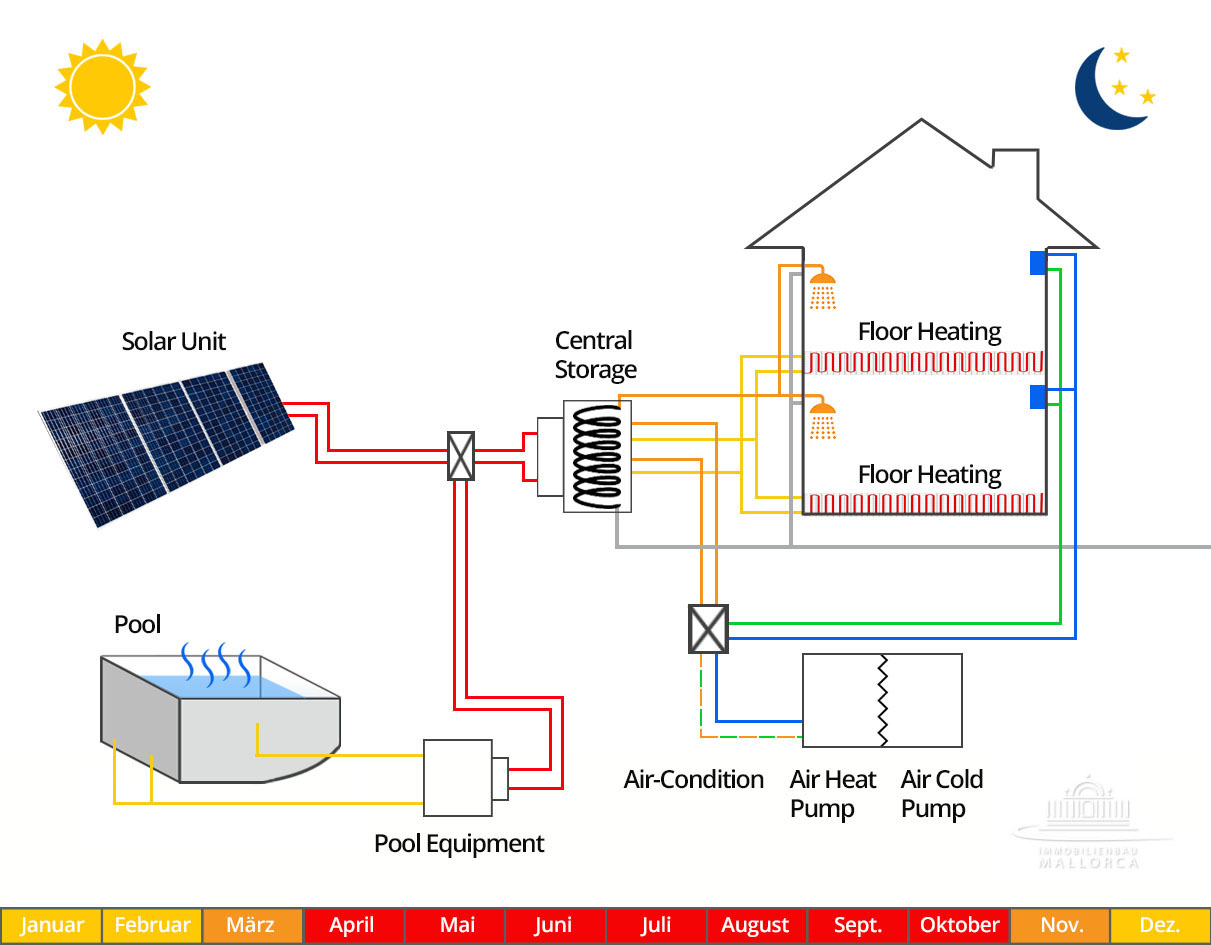 Mallorca besteht aus Stein und vor allem sehr viel Kalk-Sand-Stein, somit ist es nicht verwunderlich, dass das Grundwasser, das größte natürliche europäische unterirdische Wassersystem, sehr kalkhaltig ist. Je nach Haustyp ist die Entkalkungsanlage bereits enthalten, bei allen Haustypen sind aber grundsätzlich die Anschlüsse inklusive, damit jederzeit eine Entkalkungsanlage nachträglich und unkompliziert angeschlossen werden kann.
Is not everybody's thing and doing the constructing right, for example at our quality houses, it is not necessary. A lot of people do not get along with the cold from the air condition or the breeze and do not want air condition in their house. Our devise is, to be prepared, so that a technic can install the air condition without any problems and without any chiseling works at any time.
Think about a possible sale in the far future! Therefore all house types include an air condition pre-installation. What does that mean for you? We leave the electric-empty-pipes and transportation lines as flush installation in the masonry. The plastic cover, which can almost not be seen when it is painted, can be taken away when needed, and you can go over to the easy montage of the final devices.
Inform yourself about the different pre-installations for 1:1 split devices or about pre-installation systems with air heat pump!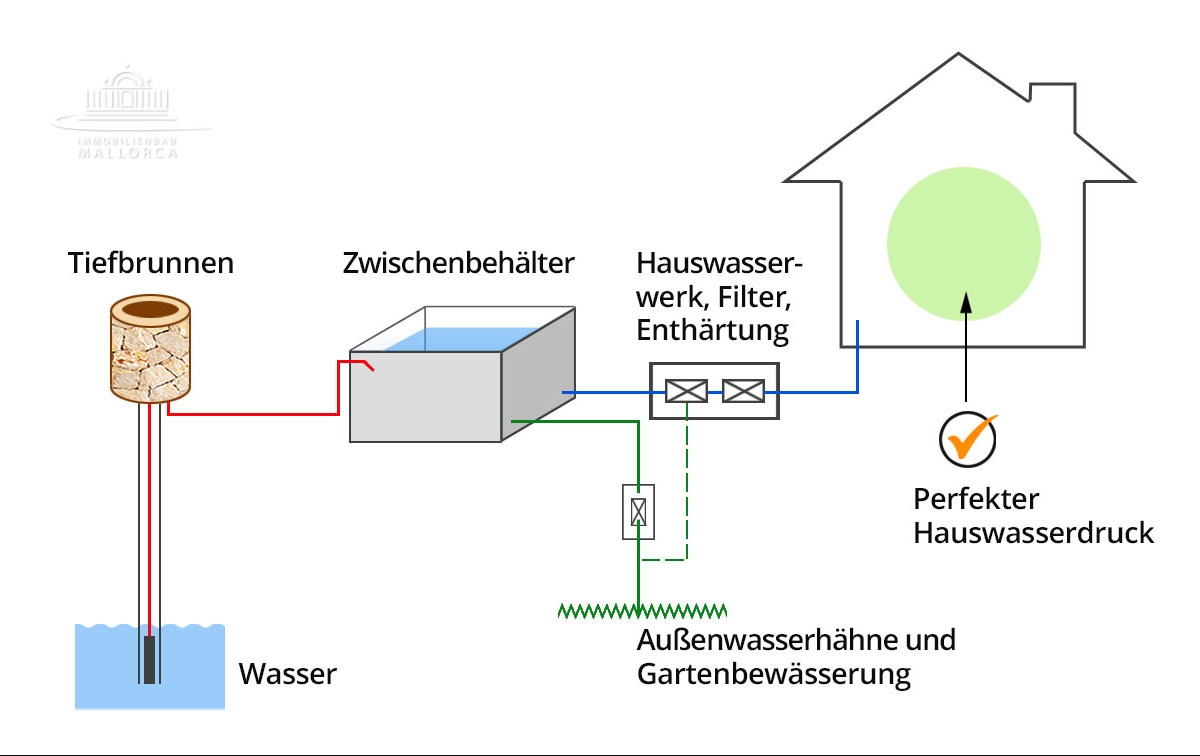 Unsere Technikräume können sich sehen lassen. Die Installationen werden mit Sorgfalt geplant und umgesetzt. Je nach Bereich kommen Polietileno (PEX/PE-X) Rohre zum Transport für Trinkwasser, Polietileno Rohre für Nicht-Trinkwasser, Kupferrohre, Thermofusionsrohre für Luftwärmepumpe (Typ Polipropileno), Edelstahlrohre oder Multicapa (Mehrschichtverbundrohr) zum Einsatz.
Die Vertikalpumpen sind nichts geringeres als Grundfoss, jeder Kreislauf erhält einen eigenen Ausgleichsbehälter und die zugehörige Elektroinstallation wird als Oberputzinstallation in Kanälen sauber verlegt und bekommt einen eigenen Unter-Sicherungskasten mit Einzelabsicherung.
Je nach Haustyp wird ein Abzweig vor Beipass-Entkalkungsanlage für Garten und Außenwasserhähne gelegt oder aber auch eine komplett getrennte Leitung mit eigener Druckpumpe. Informieren Sie sich, wann welche Lösung die angemessene ist und welche Pumpentechnik dazu passt.
The here subscribed themes, concepts, hints are an explanation for the different realization possibilities. Even though there are various described details, it is possible that your individual optimum is not found here.
Your object is as individual as you are. Your tailored solutions and specific construction details are specifically shown in your individual contract. Our contracts and objects are adapted to your requirements and are not comparable with any others.
Should you have any questions regarding your contract, do not hesitate to contact us. We accompany you during the complete construction phase.